Statements
Joint Nordic Statement to the Security Council on Women in Peacekeeping
SC: Women in Peacekeeping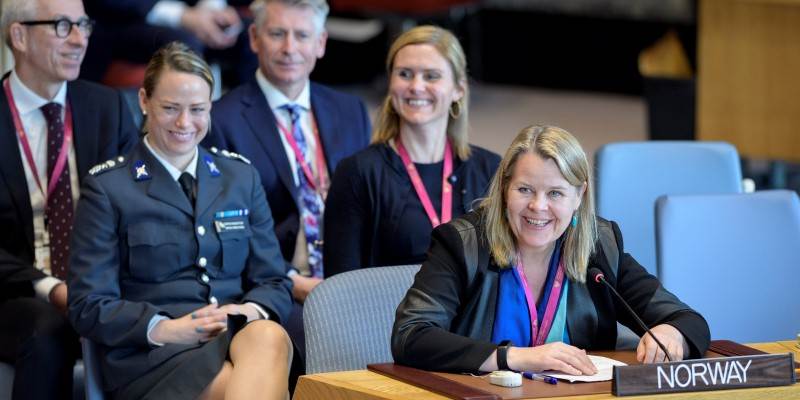 Statement on behalf of Denmark, Finland, Iceland, Norway and Sweden delivered by Ambassador Mari Skåre in the Open Debate on Women in Peacekeeping, 11 April 2019.
I have the honour to speak on behalf of the five Nordic countries Denmark, Finland, Iceland, Sweden and Norway, my own country.
I would like to commend the Secretary-General for his focus on gender equality and gender parity. Strong leadership is fundamental to combating ingrained prejudice and other obstacles to the full participation of women in peace operations and peace processes. We need to identify the barriers that exist in our home countries and within the UN system, and that are having an adverse impact on women's participation in peacekeeping.
We would like to comment on five issues raised in the Presidency's concept paper:
First,
Security Council mandates should be explicit about the need to deploy more women and ensure that they are represented in all categories of personnel, and about the importance of mainstreaming gender issues throughout a mission's work.
Mandates should also be explicit about the importance of ensuring the full participation of women in host communities in political processes. This is vital to the successful resolution of conflict and to enabling a successful transition from a peacekeeping presence to other forms of support.
Second,
As troop- and police-contributing countries, we all have a responsibility to deploy more women and to address barriers to women's deployment, including through national action plans for the implementation of resolution 1325 on women, peace, and security.
Third,
Training is key, both for increasing women's participation and for enhancing all peacekeepers' understanding of the gender perspective.
Fourth,
Member states should actively promote women to leadership positions. This is important both to tap into the valuable resources that they represent, and to provide role models that can encourage more women to participate.
We are speaking from experience. The Nordic countries are proud to provide women leaders to UN peacekeeping operations. One example is Major General Kristin Lund. She was the first woman to be appointed as force commander of a UN mission, and she is the first woman to head the UN Truce Supervision Organization in the Middle East.
Fifth,
There is often strength in numbers. The establishment of different forms of women's networks is a highly effective way of ensuring active outreach and enabling women peacekeepers to exchange experience. The Women Military Network that was initiated by Norway and Sweden here in New York last year is one example.
I would encourage all women from fellow member states who have a military background or who work in peacekeeping to join this network.
In conclusion, the Nordic countries stand committed to continuing to work to increase the number of women serving in UN peacekeeping operations, at all levels and in all categories of personnel.
Thank you.
Tags