Ministry for Foreign Affairs
He Guoqiang visits Iceland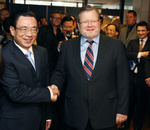 Mr. He Guoqiang, Member of the Standing Committee of the Political Bureau of the Central Committee of the Communist Party, visits Iceland on 9-10 June. Mr. This morning he met with Mr. Össur Skarphedinsson, Minister for Foreign Affairs, discussing bilateral relations between China and Iceland, including business, economy and culture. They also discussed co-operation in field of energy and issues of the high north.
He Guoqiang also met with the President of Iceland, Ólafur Ragnar Grímsson and the Prime Minister, Mrs. Johanna Sigurdardottir.
During the visit, the People's Bank of China and the Central Bank of Iceland signed a bilateral currency swap agreement. The National Power company of Iceland, Landsvirkjun, signed an Memorandum of understanding with China International Water & Electric Corporation og Export-Import Bank of China and Enex China/Geysir Green Energy signed a framework agreement with Sinopec Star Petroleum on further co-operation on building geothermal heating systems.
Mr. He and his delegation also visited the geothermal power plants at Svartsengi and Hellisheidi.
Tags