Ministry for Foreign Affairs
Icelandic Foreign Minister meets with his Croatian counterpart and president Josipovic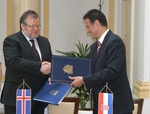 Össur Skarphedinsson, Minister for Foreign affairs of Iceland, met yesterday in Zagreb with Gordan Jandrokovic, Minister for Foreign Affairs of Croatia and Ivo Josipovic, President of Croatia. Later in the morning Mr. Skarphedinsson visited the Croatian Parliament and met with Luka Bebic, Speaker of the Parliament.
In their meeting the ministers discussed bilateral relations between the countries, Iceland's and Croatia's application for membership of the EU and cooperation within international organizations, e.g. the United Nations and NATO. Mr. Skarphedinsson discussed the Icelandic economic programme and Iceland's cooperation with the IMF. At the end of their meeting the Ministers signed a double taxation agreement between the two countries.

Both the Foreign Minister and the President of Croatia, expressed Croatia's interest in collaborating on geothermal projects but pending projects in Croatia in the field offers considerable potentials using Icelandic experience and knowledge. 
Later Minister Skarphedinsson was present at the signing of an agreement on consultancy in geothermal matters between Efla, an Icelandic engineering firm and Hrovje-Poža Energy Institute.

Tags